Quilting Links
Quilting Supplies and Patterns
Quilter Resources
Quilting Service
Quilt Shows
Quilters and Crafters Welcome!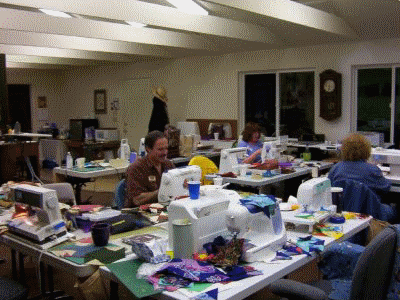 Bring your friends and come sew for a day, a weekend, or a week. I have the space for you to spread your fabric wings and create. I'll keep you fed, and clean up the thread. So until you're ready to quit, and then – well, what do YOU want to do? Relax and watch television? Go to bed? Sew more? The decision is yours. What you do NOT have to do is clear off the table, make the beds, or worry about what's for dinner.
Quilting and Craft Studio
Studio Day Use
8 a.m. to 6 p.m.
Book the studio; leave the cleanup to me.
Bring potluck or I'll provide lunch by special arrangement.
Accommodates 10-12 quilters, but has also hosted classes of 22 for hand appliqué, etc.
$10 per person per day ($70 minimum)
Studio Amenities
Refrigerator, microwave, coffee maker, basic table service
Superior lighting, office-style chairs, adjustable tables
Create table/seating arrangements to suit your group
Two design walls approx 8 x 8 each.
Quilting mats, rulers, irons & other tools.
Sewing machines (in case yours dies mid-block).
Detached from house so you can create all night.
Hundreds of quilting books and magazines to inspire and challenge.
A view of Mt. Hood when Mother Nature agrees.
Quilt, sew, scrapbook, write, paint, create.
Ideal for club meetings, committees, classes.
Off Street Parking
During your stay at the Haven you can enjoy my favorite room - - the 24' X 48' sewing, craft, and quilt studio. The studio is stocked with adjustable cutting tables, irons, 2 design walls, TV/VCR, superior lighting, adjustable padded chairs, an extensive library of craft and quilt books, and a notions wall with cutting mats, rulers, and other quilt and craft toys. The studio offers plenty of space to lay out large quilts and craft projects. We all know that great motivation and ideas do not necessarily occur during the day, so you have 24-hour access to the studio. The studio is detached from the main house, so you can work through the wee hours and not worry about disturbing others with your late- night creativity.
For those who cannot spend the night, but would love to be able to spread out to work on a favorite quilt, Christmas surprise, wedding gown, or celebrate a new baby with a shower, the sewing studio is also available for $10 per person per day ($70 minimum) by appointment. The studio is ideal for book clubs, scrap bookers, club meetings, seminars, and classes. Consider the possibility of a light brunch prepared for your group. Contact me for special rates.
The multi-use carpeted studio is fitted with 4' and 6' tables, adjustable height cutting tables (you can lay out your king-size quilt for basting and not use the floor), two 8' design walls, superior lighting, padded chairs, ironing centers, TV/VCR, cozy pellet stove, skylights, microwave, fridge, folding chairs, and a restroom. Use my most popular open horseshoe arrangement or set up the studio in a configuration that is most productive for your particular group.