Dear Future Guests:

Mom says this is too long. I already cut it in half. You don't have to read all of it if you would rather not.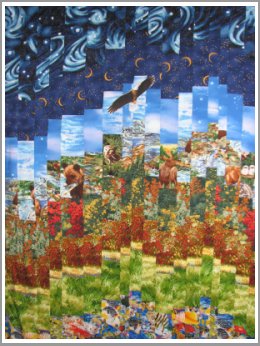 My Mom doesn't think she can write. To be more precise, she doesn't think she can write well. The fact that she taught high school English in Australia, graduated Summa Cum Laude with a degree in English from the College of the Southwest in Hobbs, New Mexico, followed family tradition and graduated from the University of Wyoming College of Law in Laramie, Wyoming, had a Law Review Article published in the Land and Water Law Review while still in that same law school, or to this day proofs technical papers for an Alaskan attorney and an award-winning Wyoming writer doesn't seem to matter. She doesn't think she can put a noun and verb together into a coherent sentence and make it something anyone would care to read. She's wrong, but that's not really the point.
So, she's enlisted me, her daughter, to write this little section on "About Me." Let's see if I can do it, and her, justice, shall we? I'm just thrilled that on the Internet, there are no red pens with which she can correct my grammar...
Jane is a native of Wyoming (born in Lusk), insofar as she can be a native of anywhere. We moved so much when I was younger, we had a running joke: "Home is where you're not."
While she does not consider herself "well-traveled" she says she "helped support fabric stores in Wyoming, Montana, New Mexico, Texas, Alaska, and Australia." So much for the "does not consider herself 'well-traveled'" bit.
Anyway, let's briefly explored the words "helped support" for a moment. Jane has done everything from "work at" to "manage" to "gosh, mom, shouldn't you just own stock in this store?" in order to "support" the local fabric and sewing communities. My youngest memories as a child were falling asleep in the fabric stacks in the little store in Artesia, New Mexico. When I was 13, we moved to Laramie, Wyoming, so she could attend law school. One fine day, she was at a local craft store when the phone rang. She jokingly said, "If I were back home, that would be my daughter looking for me!" The clerk answered the phone and asked "Are you Jane McClain?" When Mom asked how I knew where to find her, I explained that I just looked up fabric stores in the yellow pages (there weren't that many in Laramie back then) and started calling them. We'd been in Laramie for a whole 4 days.
Back to history -- Jane was married to (and this is not a joke) Dick McClain. Yes, Dick and Jane. I've always been grateful they did not name me "Sally" or one of our dogs "Spot." Soon after they married they moved to Australia, where she worked in a slaughter house and taught school. (There may be a bad joke in there!) But that's a WHOLE 'nother story. Their daughter, Mikki (that's me), was born in Darwin, Northern Territory, in August of 1972.
After their return to the U.S., Jane continued her life-long pursuit of both knowledge and fabric accumulation. (Yes, I bought my mother the poster many years ago that says "She who dies with the most fabric wins." Trust me -- everyone should just quit trying to catch up now. The race was over years ago. I would know. I helped pack it up to move it to Alaska. And packed much of the same to move to Oregon.)
Because she had nothing to do in her spare time (she lived 30 minutes from the nearest town, had a quarter-acre garden, worked full time, and had two 4-H groups), she started her own nationally recognized dog kennels (Warrigal Kennels) were she bred, raised, trained, and showed American Staffordshire Terriers and Basenjis. Wait – I forgot – we also had ducks and 2 snakes. (Ask her about killing rattlesnakes!). And somewhere in there, she finished her undergrad degree. (No – this is not a timeline error – she finished her undergrad degree in New Mexico AFTER she taught school for a year in Australia. That too, is another part of the story - - - )
After she graduated from law school, Jane moved to Alaska, where she worked in various fabric stores (all the same chain), honed her cooking skills as a short order cook, and worked as a legal secretary/paralegal (at one point all at the same time). She says that she was sitting at the computer one day and sent her sister information about a bed and breakfast where she could spread out her patterns, her threads, her scissors, her pens and notebooks,... where she could sew, write, imagine, create... and not have to clean off the kitchen table when it was time for dinner. Her sister (my Aunt Joyce) asked her where the B&B was. And Mom said "In my head." And after planning and scheming and saving and fretting, she packed up everything and moved to Oregon to start Fagan's Haven. Well, she packed some and moved. Dad and I packed the rest, and he made a total of three u-haul trips hauling her stuff out of Wyoming and in and out of Oregon and Alaska. After they were divorced. Does that say anything about their continuing friendship?
She did get some sewing done before the studio - - there were only a couple of quilts as I recall, but she did make my prom dress, my wedding dress, her sister's wedding dress, and my then best-friend's wedding dress (with a week's notice.), and surprised my Dad with a guided bowhunting trip that she paid for by doing consignment sewing. However, if you are a quilter or sewer and you want a bit of fun, ask her about my purple leotard.
In April/May of 2008, Jane and Vickie (her best friend of – uhm – well since junior high) went to Scotland where they took in the Loch Lomond Quilt Show (again with the "non-well-travelled" bit *shrug* --- ask her about the Seven Seas University some time!). Only woman in the world I know that would go to Scotland to look at ... that's right... more fabric. (Okay, probably others do, too, but none that I know.)
So that's about Jane, my Mom. Now, the B&B part of the story is yours to learn about first hand. It is her business, but it is also her home. From the moment you come in, until the moment you leave, you will feel like it is yours, too. You will miss it. And you will want to come back.
You will want to come home.